STERIFAB AND IT'S REQUIRED USAGE
ONE CARTON OF STERIFAB GALLONS WILL TREAT APPROXIMATELY
20-25 SETS (BOX SPRING AND MATTRESS).

ONE CARTON OF A 5 GALLON STERIFAB WILL TREAT APPROXIMATELY
30-35 SETS (BOX SPRING AND MATTRESS)



UPHOLSTERED FURNITURE IS DEPENDENT ON SIZE, HOWEVER A TYPICAL COUCH OR SOFA WILL REQUIRE 10-12 OUNCES PER APPLICATION. (A GALLON WILL COVER APPROXIMATELY 8 – 10 PIECES OF UPHOLSTERED FURNITURE, WHILE THE 5-GALLON WILL COVER APPROXIMATELY 40 – 50 PIECES OF UPHOLSTERED FURNITURE.)


NOTE THAT STERIFAB MUST BE SHAKEN WELL BEFORE AND DURING APPLICATION TO INSURE THAT THE IDENTIFICATION CRYSTALS ARE DISPERSED THROUGHOUT, SO THEY ARE APPLIED EVENLY.
THE ABOVE ESTIMATES ARE JUST THAT, ESTIMATES. KEEP IN MIND THAT THE ACTUAL YIELD MAY BE ALTERED SIGNIFICANTLY DUE TO THE TYPE OF SPRAYER, AND SPRAY PATTERN.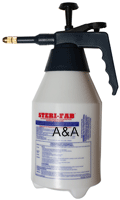 IMPORTANT NOTE: LARGER MATTRESSES, UPHOLSTERED FURNITURE, ETC. MAY REQUIRE MORE STERIFAB THAN THE ESTIMATES STATED ABOVE, WHILE FUTONS, WHEELCHAIRS, AND OTHER ITEMS MAY REQUIRE LESS.