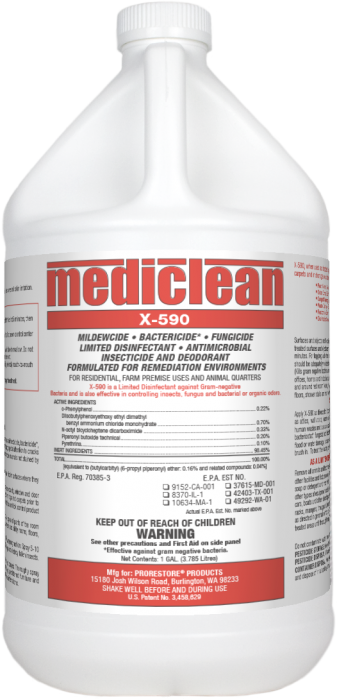 Mediclean X-590 is the first natural formulation in the world to combine bactericides, fungicides, deodorant and insecticides in a single formula. One application kills insects, mold, mildew and bacteria odors for powerful protection against a variety of germs.
Mediclean X-590 KILLS INSECTS
Mediclean X-590 Contains all natural ingredients and protects pets and family against harmful insects like fleas, ticks, lice, bedbugs, mosquitoes, mites, roaches, wasps, centipedes and other critters. Microban X-580 even kills flying and nuisance insects.
Mediclean X-590 IS APPROVED FOR SOFT SURFACES
Unlike ordinary disinfectants whose application is limited to hard, non-porous surfaces (like floors and countertops), Mediclean X-590 is approved for use on exposed surfaces like bedding, mattresses, upholstered furniture, drapes and carpet.
RECOMMENDED AND TRUSTED
Cleaning and restoration experts have used and relied upon this brand for over 30 years. Industrial hygienists and environmental consultants trust chemicals bearing the Microban label and specify it when they guide and advise professionals handling microbial remediation, odor removal and pest control protocols. In many ways, water-based Mediclean X-580 is a miracle of science; it is the first combination of disinfectant, fungicide, antimicrobial, mildewcide, bacteriostat, fungistat, insecticide and deodorant ever produced. That is a distinction that cannot be dismissed when you wage war on pests.
| | | |
| --- | --- | --- |
| 1 gallon | UNS221561000 | $58.90 |
| 4x1 gallon | UNS221562000 | $219.10 |
Microban X-590 Institutional Spray Plus "Red Label" also contains microscopic non-toxic and non-flammable inert crystals which are visible only under highly magnified ultravoilet light. Using a suitable detection unit, areas that have been treated can be easily
identified.

| | |
| --- | --- |
| Effective against: | |
| Fleas | Ticks |
| Lice | Bedbugs |
| Mites | Roaches, etc. |
| | |
| Fungi: | Viruses: |
| Aspergillus niger (Black Mold) | Influenza A2 |
| Aspergillus flavus | Herpes simplex 2 - Genital herpes |
| Aspergillus terreus | |
| Penicillium citrinum | |
| Athletes' foot fungi | |
| | |
| Bacteria: | |
| Staphylococcus aureus | Staphylococcus pyogenes aureus |
| Staphylococcus albus | Staphylococcus albus coagulase |
| Staphylococcus aureus hemolyticus coagulase | Staphylococcus citreus |
| Salmonella choleraesuis | Salmonella typhosa |
| Escherichia coli | Pseudomonas aeruginosa |
| Most gram-positive bacteria | Most gram-negative bacteria |
| | |
| AND MANY OTHERS | |